Bodylight® Pilates Teacher Training and other courses
Bodylight® Teacher Training school had its first course in 2004 with now many certified teachers teaching in various Pilates and Yoga studios all over Auckland and NZ.
If you are thinking about a career in the holistic health and wellness industry or simply wanting to expand your knowledge of the working of the body so you can help yourself and your family maintain a strong and healthy mind-body connection, enquire with us about our courses.
The unique Bodylight® method draws from the wisdoms of ancient Yoga and Qi-gong, mixed with the modern Pilates approach to offer a whole mind-body education system.
Pilates education, Anatomy, Yoga - asana, nidra and pranayama, Qi-gong practice, and manual therapies taught in a deep, thorough and practical way.
Small class numbers allow for a full immersion and understanding of the techniques with strong hands-on approach, teaching skills and many practice hours at the fully equipped Bodylight® studio.
Bodylight® Foundation Teacher Training course (mat & props)
The Bodylight® Foundation course is designed for students who have Pilates or Yoga Experience and want to become Bodylight® instructors or who wish to expand and deepen their knowledge of Mind-body awareness, movement and health.
At the end of the course, students will be able to teach Mat and Small Props classes, at beginner and general level.
The course runs over 4 intensive weekends - one weekend each month, plus an immersive Bodylight weekend retreat 
Students are expected to complete assignments/readings at home/studio throughout the progression of the course.
In Progress - Started 30 April
Enquire about the next course:
Enquiry Form

Bodylight® Level 1 Teacher Training course (mat & equipment )
The Bodylight® Level 1 course is designed for students who completed the Foundation course* or can prove previous knowledge and experience in other methods. The course runs over 8 weekends and teaches a  repertoire of Pilates equipment work, and further deepens the Bodylight method work in Pilates, Yoga and Qi-gong.
By the end of the course, the students will be able to teach in a Pilates studio environment working with Reformers, Trapeze, Wunda Chair, Ladder barrel and props.
*While this course usually has a pre-requisite of doing the Bodylight Foundation cause, experienced Yoga teachers and Pilates teachers who want to expand their knowledge may be able to join after an interview.
Our next Bodylight Level 1 course starting 11 Jume 2022
Enquiry Form

A unique fusion of Mindfulness meditation, Yoga and qigong flow. Present moment experience through breath awareness and gentle yogic movement.
Suits Beginners (no yoga experience required).
More details: https://bodylight.co.nz/mindfulness/
Bodylight® Manual Therapies Weekend Course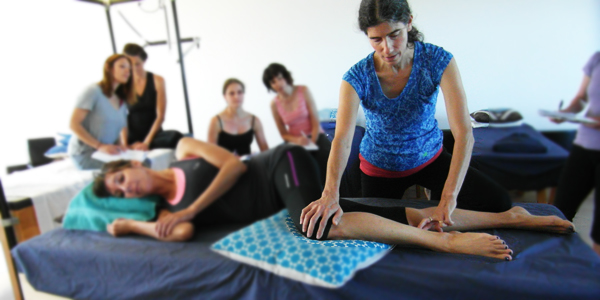 This is a Hands-On weekend course. You will learn the unique Bodylight treatment method. A combination of Shiatsu, Reflexology, Fascia release, Deep tissue, Assisted stretches, Reiki and Thai Yoga massage.
The Bodylight treatment is very effective for rehabilitation and deep relaxation. A great tool for any bodyworker, therapist or Pilates/Yoga instructor.
Bodylight® Qi-gong Weekend Course/Workshop
Bodylight is offering a deep study course for Qi-gong philosophy, principles and methods.
This course is open for all levels of practitioners and students and is offered both as separate modules, or as a full comprehensive teachers training course.
The full course spans over 2 years - One module every 8-10 weeks (modules dates to be advised).
Each module/workshop is 14 hours long and will run over a full weekend.
Cost: $350 per module.